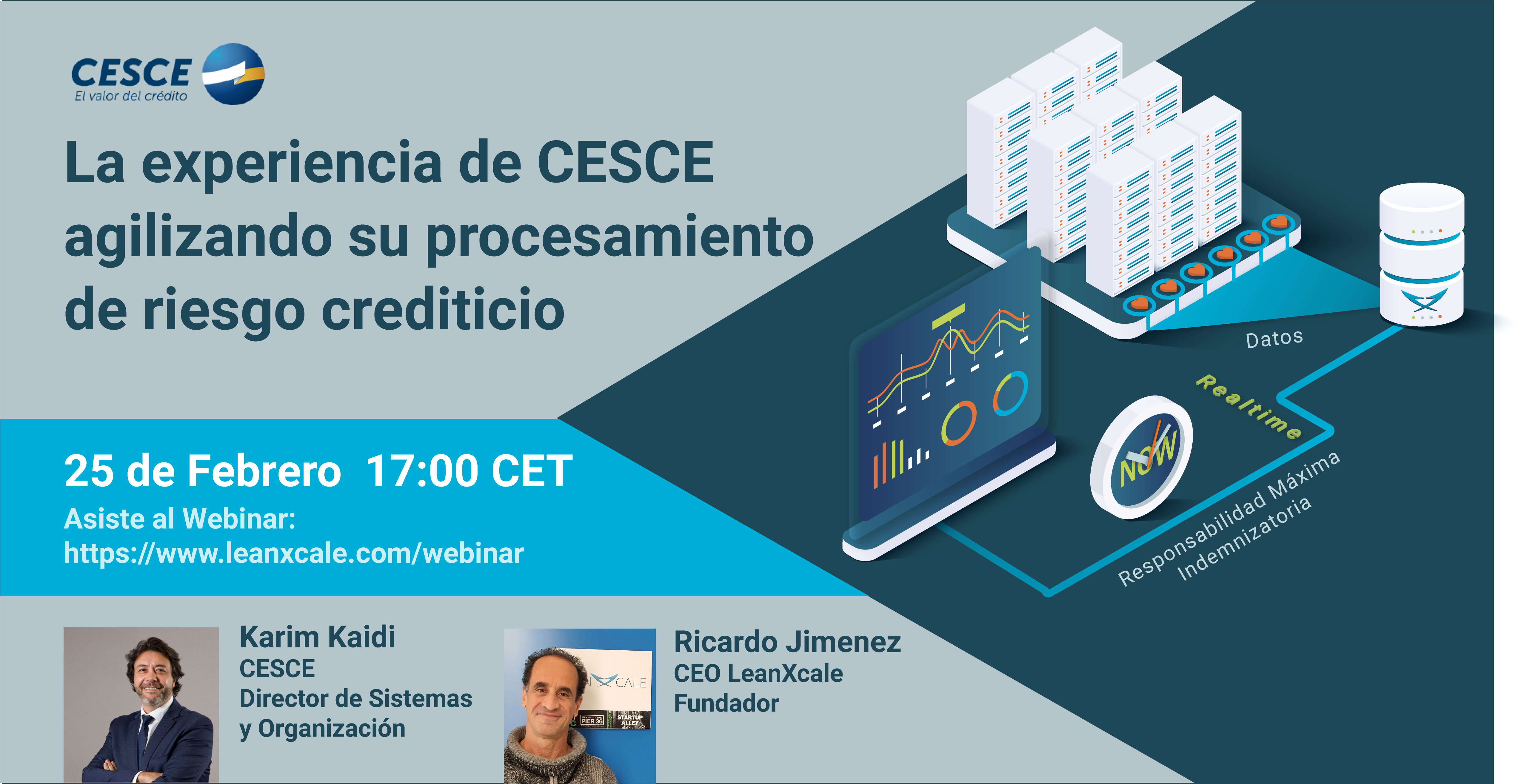 – Following the successful implementation of the LeanXcale database at CESCE, LeanXcale has launched a series of webinars to share the success story with other companies in the banking and insurance sectors.
– The first of these, held on February 25th, was attended by Karim Kaidi, Director of Systems and Organization at CESCE.
– More than 300 executives from large and medium-sized banking and insurance companies from Spain and Latin America registered for the event.
LeanXcale, a Spanish software manufacturer, recently closed an important agreement with the CESCE Group, which will use LeanXcale database both in the parent company, CESCE, and in its subsidiary, Informa D&B. CESCE is the world's 4th largest credit and surety company, while Informa is the leading business information company in Spain.
To share the success story that has led to this agreement, LeanXcale has launched a series of webinars together with CESCE. The first of these, for which more than 300 bank and insurance company executives registered, has already been held. In it, Karim Kaidi, Systems and Organization Director at CESCE, shared the details of the project developed together with LeanXcale.
The project, in numbers
In his speech, Karim detailed the technical improvement of replacing the market leading database with LeanXcale in its Maximum Compensation Liability calculation process. In terms of times, they have seen a 257-fold reduction in the initial data load (from 1,440 hours to 5.6 hours) and a 27-fold reduction in the daily load (from 600 minutes to 22 minutes). This, Karim says, has translated into greater efficiency for the analyst team, who now spend less time waiting for information to become available.
In addition, Karim highlighted the large cost savings that go hand in hand with improved efficiency: a reduction of 85% in licensing costs and an optimization of 90% in infrastructure costs.
He summarized the operational and business impact in three points:
– Reduction of total cost of ownership (TCO): by lowering licensing costs, minimizing infrastructure costs and improving equipment performance.
– Reduced operational risk: by being able to execute the process in a much shorter time, within the same working day.
– And, above all, a more efficient use of capital by improving risk analysis capacity.
CESCE's reasons for adopting an emerging technology
Karim explains the reasoning behind the decision to adopt LeanXcale's technology as opposed to that of the market leader, which is much more proven. "It was a failed project. They were processes that took days and were not viable. (…) we were investing in technologies and machines and we could not achieve optimal times. (…) We are digitally transforming CESCE. We are betting on disruptive technologies. I was lucky to find this technology."
From working with LeanXcale, Karim highlights the support received to start a pilot from scratch, and the help in the deployment.
Another key aspect for Karim is the technological innovation of the LeanXcale database. "It is a very special feature that this database has. It unites two worlds: the SQL world, with all the benefits it has for information exploitation; with the NoSQL world, where we gain in the ingestion of all the information."
In addition, another LeanXcale innovation highlighted by Karim is the linear scalability up to hundreds of nodes, which will allow CESCE to scale its architecture as much as required.
At the end of his speech, Karim states that through the agreement with LeanXcale, CESCE "solves clear stumbling blocks, (…) what we are trying to do is to solve things that the current technology was not solving, and that is where I think LeanXcale is strong".
In this video you can see Karim's participation in the event (only available in Spanish).