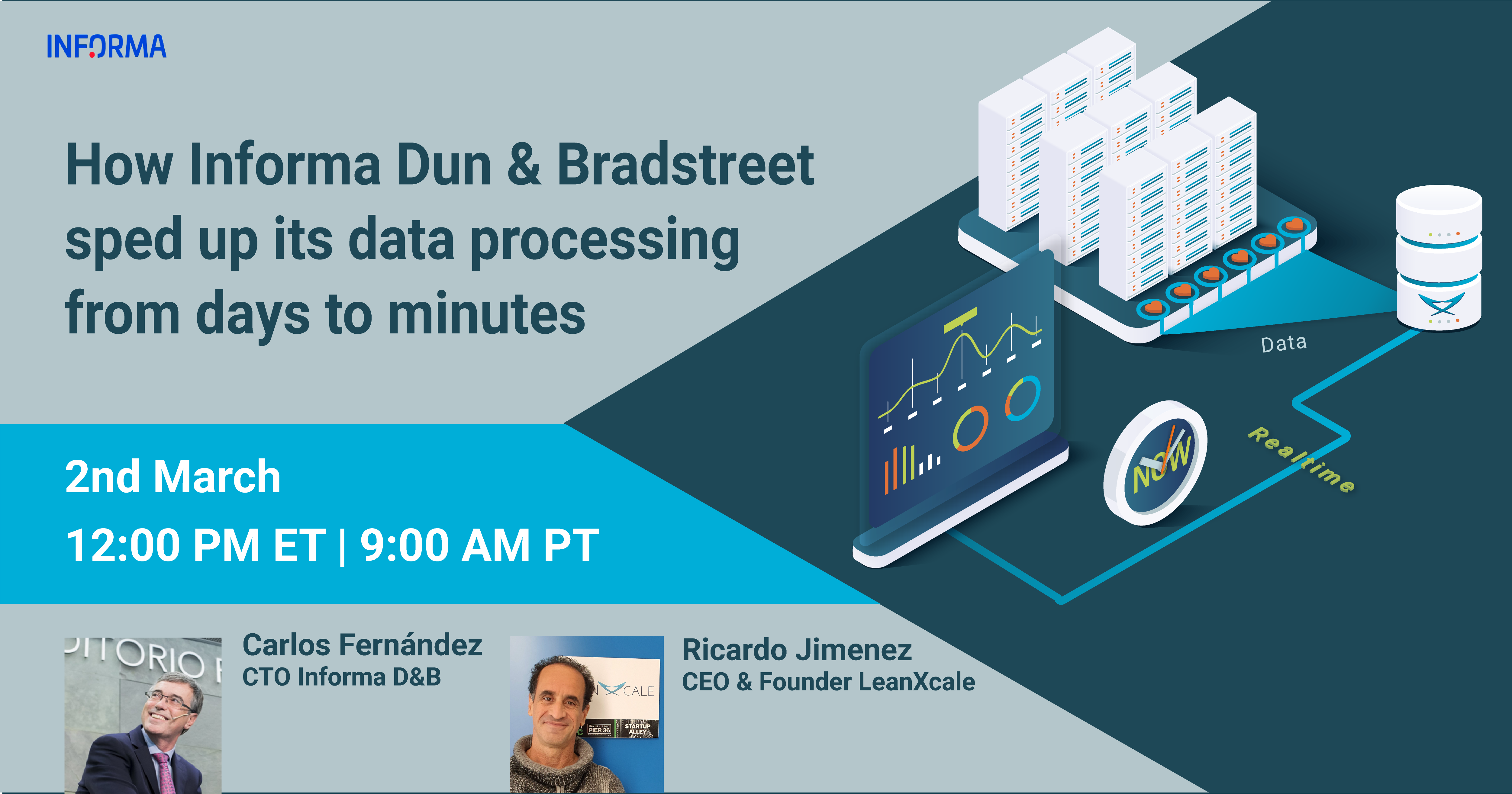 2nd march | 12:00 PM ET | 9:00 AM PT | 1 hour duration
Discover the data strategy of Informa Dun & Bradstreet, the branch of Dun & Bradstreet in Spain, Portugal, and Colombia. Learn how it has accelerated its data processing by 72 times, reducing the cost of its platform, and what it has meant for the business.
BEST DATA-DRIVEN DECISIONS TO GO FURTHER
At LeanXcale we believe in companies willing to make instant, informed decisions to gain a competitive advantage. That's why we want to bring them the best decisions available.
LeanXcale is a database that helps companies aggregate and easily process consistent data in real-time at any volume.
Informa D&B is the branch of Dun & Bradstreet in Spain, Portugal and Colombia, where it is leader in the supply of Commercial, Financial, Sectorial and Marketing information.
To remain the industry leader, Informa needed more data, faster. That's why it turned to LeanXcale, accelerating some data processes more than 70 times.
In this webinar, Carlos Fernández, CTO at Informa, will explain its data strategy for the next decade, and how LeanXcale will help to make it real.
Agenda
The Informa IT strategy:

How to remain leaders in the next 10 years?
The Marketing Database Case

The previous situation
Performannce improvemennt
Operation risk reduction
New capacities
The technology adoption

The underlying technology

Transformation capabilities
Big volumes
Scalability

Demo: Personal Loans Data Procesing
Q&A
About Informa
Informa, branch of Dun & Bradstreet in Spain, Portugal, and Colombia, is the leader provider for Commercial, Financial, Sectorial and Marketing Information.
It has more than 350 employees and provides information to 95% of Spanish financial institutions. Informa invests 12 million euros a year just in the purchase and processing of information.

Speakers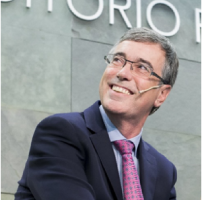 CARLOS FERNÁNDEZ | INFORMA DUN & BRADSTREET CTO
Carlos Fernández holds a Superior Degree in Physics and a MBA from IE in Madrid. His professional career has included companies such as Saint Gobain, Indra, Reuters and Fedea.
He is Deputy General Manager at INFORMA, member of XBRL CRAS (Credit Risk Services), and member of the Alcobendas City Council's Open Data Advisory Board.
Furthermore, he is former member of various boards: GREFIS (Financial Information Services Group of Experts), ASNEF Logalty, ASFAC Logalty and CTI.